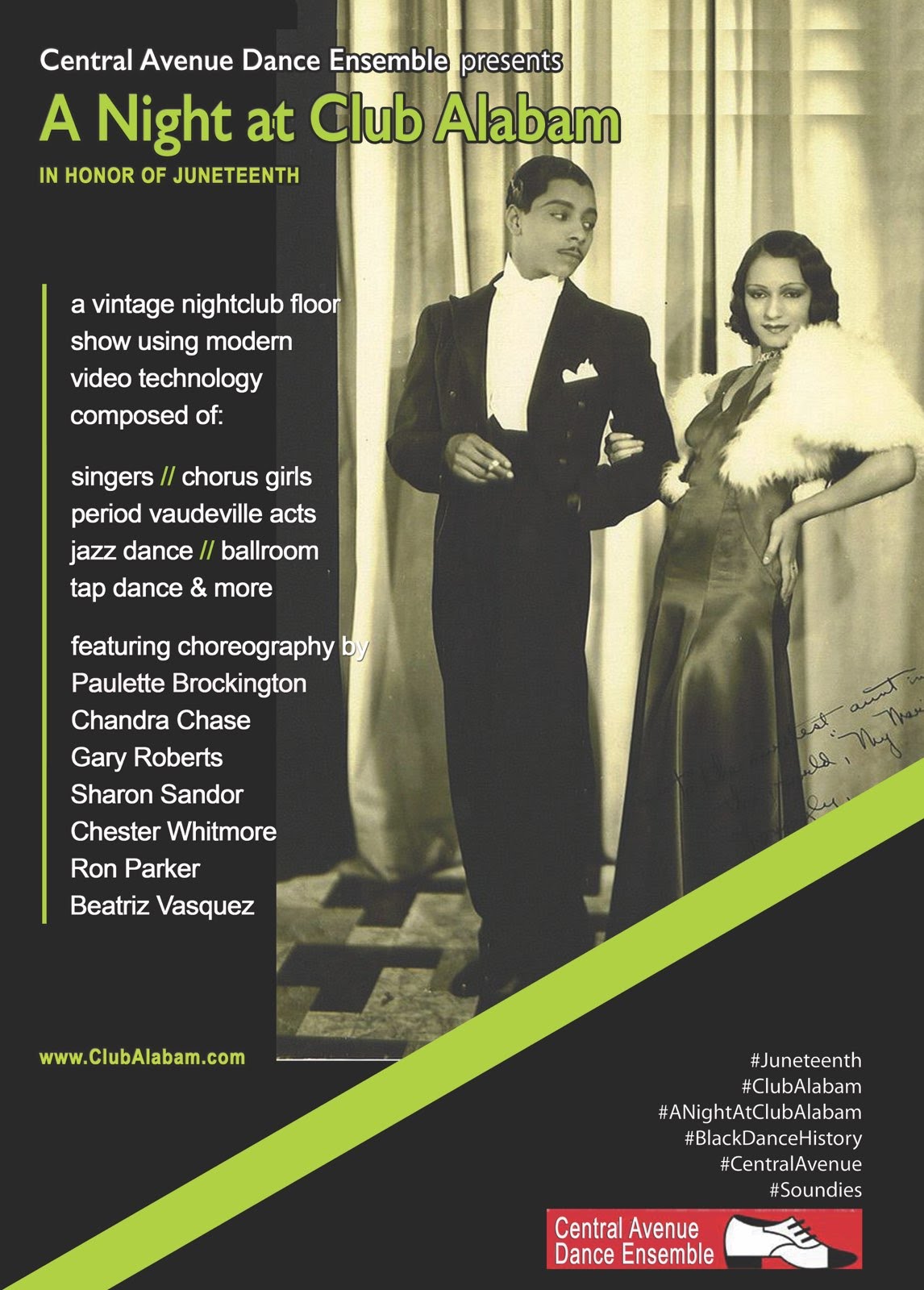 This coming June 19th is "Juneteenth", which is also known as "Emancipation Day". Juneteenth is the oldest nationally celebrated commemoration of the ending of slavery in the United States. On June 19, 1865, a Union General rode into Galveston, Texas to announce that the Civil War had ended, and slaves had been freed. Though the Emancipation Proclamation became law in January 1863, it could not be enforced in places still under confederate control. Thus it took over 2 years for approximately 250,000 Texan slaves to learn their freedom had been secured by the government.
In commemoration of Juneteenth, The Central Avenue Dance Ensemble will present an online show titled "A Night at Club Alabam". What is Club Alabam, you might ask? Here is the story of this show:
In 2016, the Los Angeles Ford Amphitheater presented it's largest vernacular jazz dance concert ever: "Chester Whitmore - Lord of the Swing". This was a live variety show inspired by the Big Band era of the '30s, '40s and '50s, directed by and starring members of the Central Avenue Dance Ensemble as well as tapper, bandleader, dance historian and multi talented performer extraordinaire: Chester Whitmore He has since then been officially recognized as "The Lord of the Swing".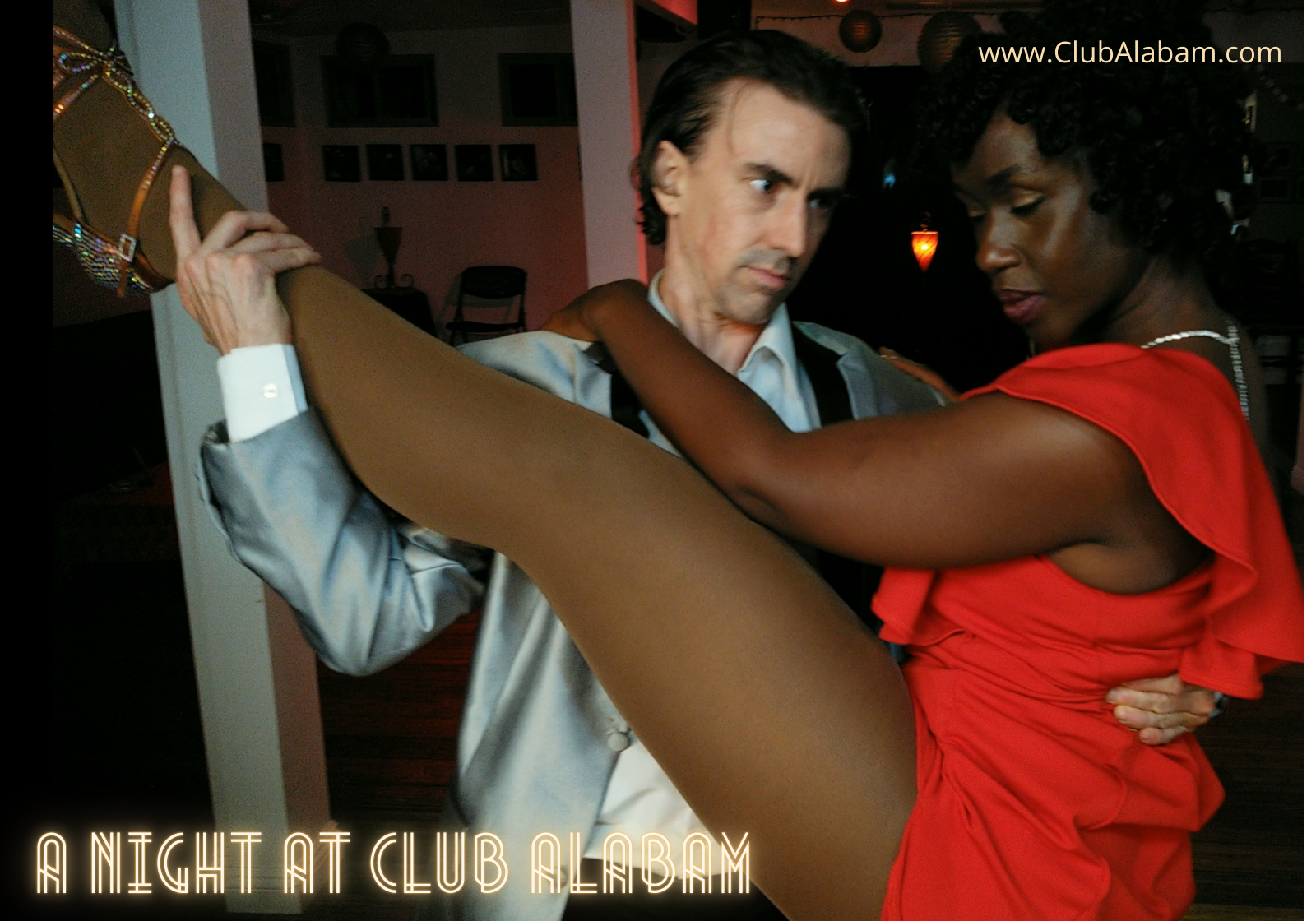 In the fall of 2018, the California Museum of African-American History (CAAM) presented an historical retrospective on "Central Avenue". From approximately 1920 to 1955, Central Avenue was the heart of the African-American community in Los Angeles, with active rhythm and blues and jazz music scenes. It was known as the West Coast Harlem. And it's most famous and grand nightclub, Club Alabam, was known as the Cotton Club of the West Coast.
Chester Whitmore and the Central Avenue Dance Ensemble, a dance group dedicated to educating the community on Black vernacular jazz dance history through performance re-enactments, presented a Central Avenue dance retrospective during the exhibit. Clips from that event, the most well attended and well received of the series, can be found here:
https://www.youtube.com/watch?v=Izc4cQACmOI&feature=youtu.be
The Central Avenue Dance Ensemble presented a similar show the following year at the historic Dunbar Hotel (on Central Avenue) during the Central Avenue Jazz Festival. The Dunbar (right next door to Club Alabam) became the center of the Central Avenue jazz scene in the 1930s and 1940s. It hosted Duke Ellington, Cab Calloway, Billie Holiday, Louis Armstrong, Lionel Hampton, Count Basie, Lena Horne, and many other jazz legends. The Dunbar Hotel was the location for many of the top names in African-American entertainment when they visited Los Angeles (then a segregated city).
https://www.youtube.com/watch?v=JwZNohRDLdg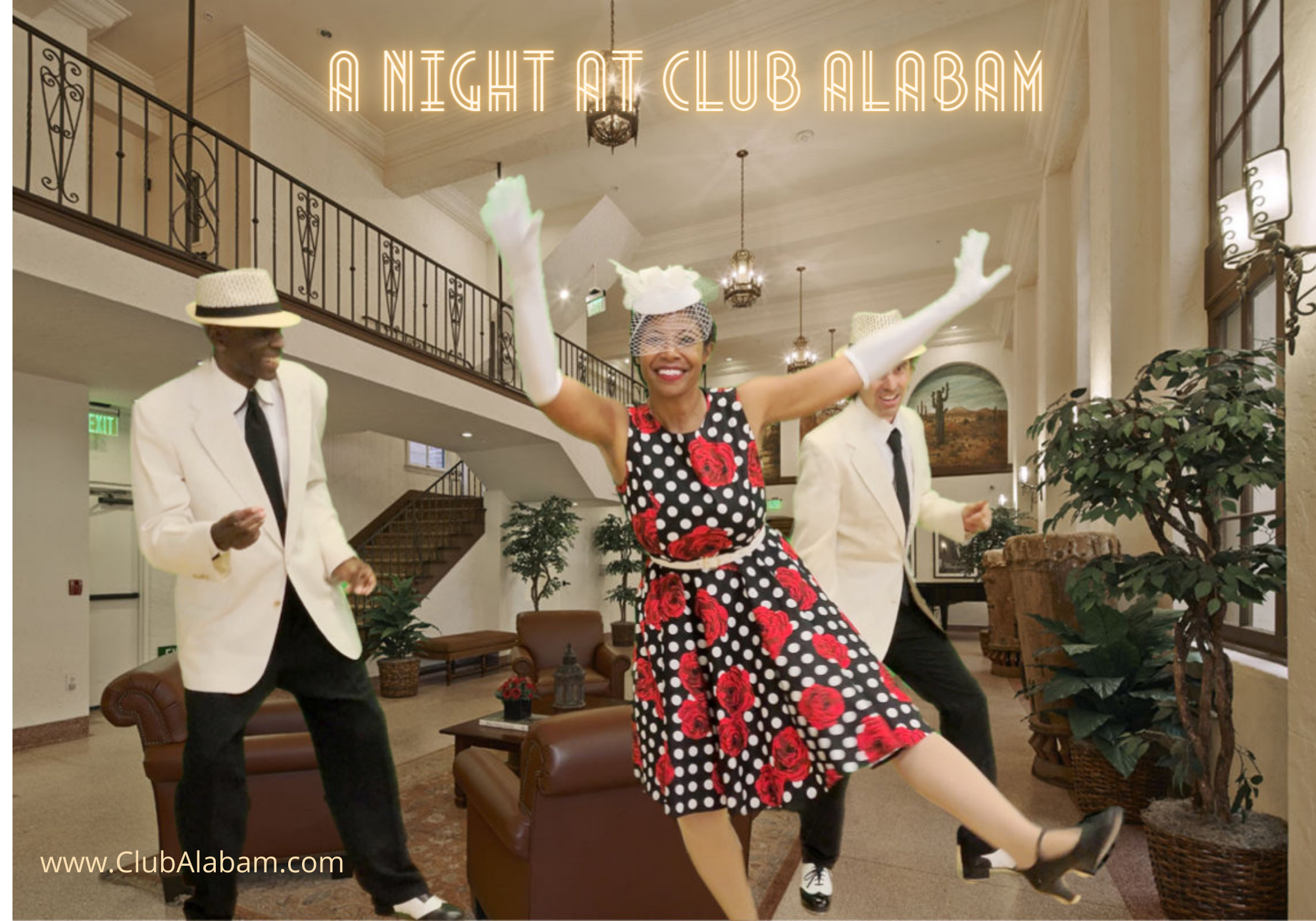 And, just just a few weeks after that (November 2019), Chester and members of both the Central Avenue Dance Ensemble and the LA Swing Dance Posse were featured on the local Los Angeles CBS affiliate station show "2 on the Town", celebrating, through dance, the historic Leimert Park District, another Los Angeles African American center of business, art and culture.
https://www.youtube.com/watch?v=PBGLzYpxuNQ
Thus was born the idea of a vintage Cotton Club style nightclub floor show revue. The idea is to take the audience back to the 1930s and 1940s, before DVDs, VHS Tapes, YouTube, Netflix or even regular TV, when most people only got to see live dance shows by going to clubs and the theater. Most of these productions would be variety shows, entertaining audiences with a wide variety of performance styles..
"A Night at Club Alabam" is a vintage nightclub floor show (using modern video technology) composed of the following:
Singers
Chorus Girls
Tap Dancing (Solo, Duet, Eccentric and Chorus Line)
Vernacular Jazz Dances (couple and ensemble)
Vaudeville Act
Ballroom Dancing
Exotic Dances:
Arabian Sword Dance (with dancing girls!)
Flamenco (with live guitarist!)
Mambo Caliente
Tango Milonga (with live pianist)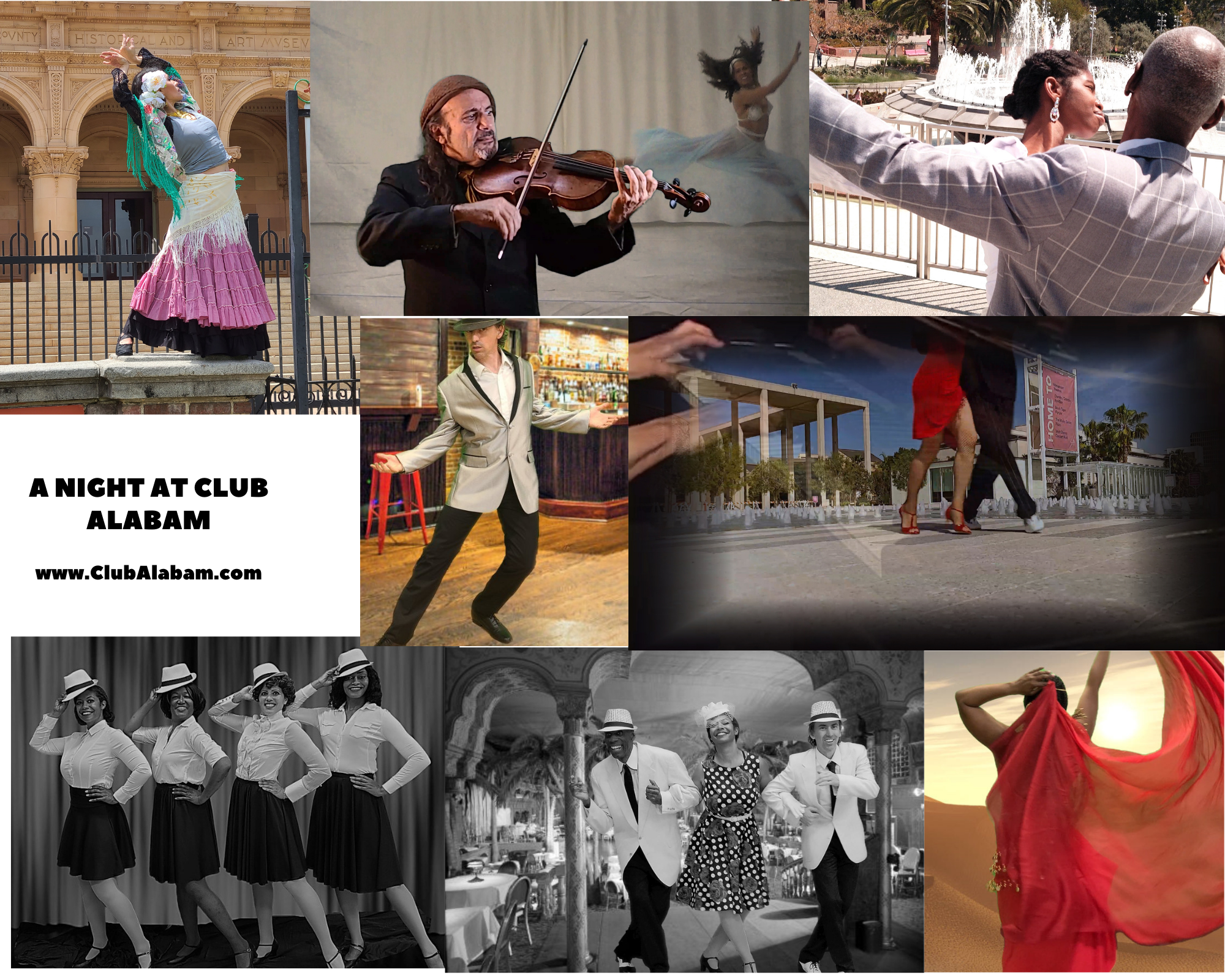 The idea is to take the audience back to an era that no longer exists, to expose them to styles of performance and dance they may never have seen before, but which were the origins of the styles they know and dance today. And to do all of that with an insanely entertaining show.
This event will feature some of your favorite performers: John Acevedo, Erica Blake,
Nic Canada
, Chandra Chase, Bill Freeman,
Pamela Hart
,
Lola Jeffery
,
Yulia Maluta
, Suryany Misrayim,
Vel Omar Syed
,
Gary Roberts
,
Aisha Qaasim
,
Sharon Sandor
, Madeleine Schmidhauser,
Reginald Thornton
, Noelle Tinturin, Beatriz Eugenia Vasquez. And Ron Parker.
With choreography by: Paulette Brockington, Chandra Chase, Gary Roberts, Sharon Sandor, Chester Whitmore. And Ron Parker.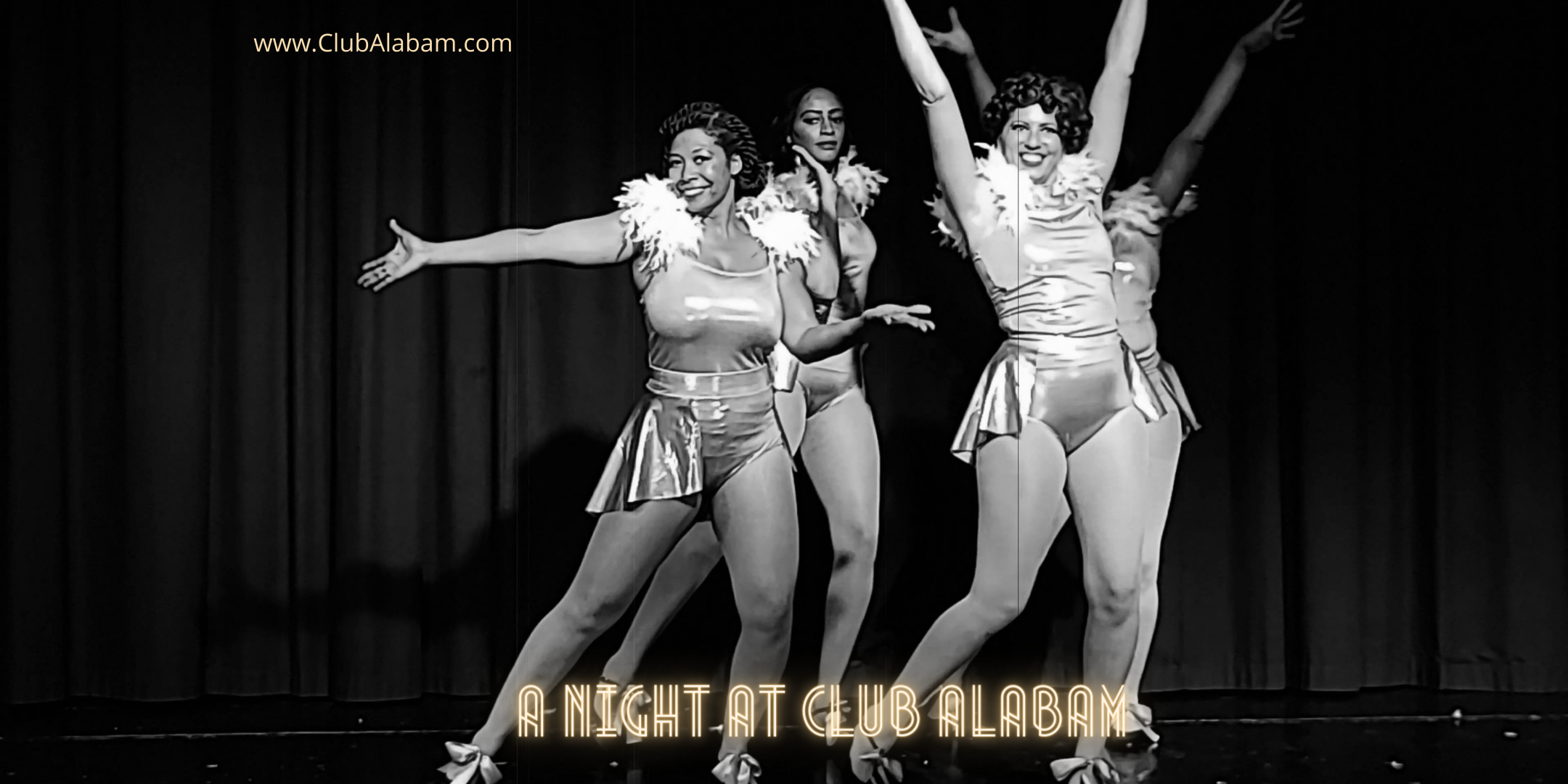 So please consider joining us on Juneteenth for A Night at Club Alabam. Click here to purchase tickets:
http://www.ClubAlabam.com
The Central Avenue Dance Ensemble
The Central Avenue Dance Ensemble is a multi-aged performance group led by Chester Whitmore. Our mission is to perpetuate and promote American Vernacular dances of the 20th Century. These dances include: American street dances such as Leonard Reed's Shim Sham Shimmy, the Shorty George, the Charleston (1920s) and the Lindy Hop (1920s - 40s). These are in addition to dances derived from them like the Chicago Bop (1960s) which begat Steppin' (1990s). We aim to show the connections between dance forms from generation to generation and their connection to music and cabaret; to show how American vernacular dances were influenced by African dance and were shaped by spirituality and slavery (liturgical dance) as well as were molded by rhythm and music (tap dance and Salsa). We aim to express the infectious healing qualities of dance, to educate audiences and to spread the joy of dance.
Recent Content: 

| Type | Title | Post date | Updated/commented date |
| --- | --- | --- | --- |
| Event | Archive: The Origins of Black Dance (2014) | Monday, April 27, 2015 - 3:33pm | Tuesday, July 21, 2015 - 2:39pm |
| Event | CADE performs at 2nd Annual Tango On The Streets | Saturday, November 19, 2011 - 2:02pm | Thursday, August 20, 2015 - 5:25pm |
| Event | L.A. Trade Tech Dance Ensemble Reunion '06 | Thursday, July 9, 2009 - 8:08pm | Thursday, August 20, 2015 - 5:10pm |
| Event | Didn't My Lord Deliver Daniel? | Thursday, July 9, 2009 - 8:08pm | Thursday, July 9, 2009 - 8:08pm |
| Event | Chester Whitmore "Lord of the Swing" Teaches Weekly Swing Class in February | Sunday, February 2, 2020 - 3:25am | Sunday, February 2, 2020 - 3:29am |
| Event | 2005-02-18 - Swingin In The Hood | Friday, February 18, 2005 - 12:00am | Wednesday, January 4, 2017 - 10:01pm |
| Event | Tribute to Michael Jackson | Saturday, May 13, 2017 - 10:43pm | Sunday, May 14, 2017 - 10:43pm |
| Event | A Night at Club Alabam | Friday, May 14, 2021 - 3:19pm | Friday, June 18, 2021 - 2:03pm |
| Event | Sandra Giles: CADE Performs at Sandra Giles Birthday Party | Tuesday, July 6, 2010 - 7:23pm | Thursday, August 20, 2015 - 5:23pm |
| Event | Benefit Dance for Kirk Tuey | Thursday, July 9, 2009 - 8:08pm | Thursday, July 9, 2009 - 8:08pm |
Pages