About Us
Primary tabs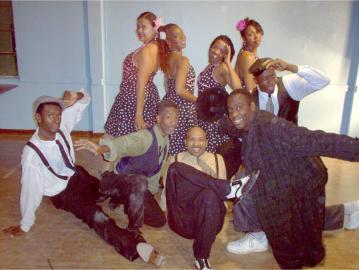 The Central Avenue Dance Ensemble is an exciting, energetic and dynamic group which takes its name from the historic Los Angeles street that was a haven for African American music, culture and business in the 1920s through 1950s. The group strives to recreate the dance styles made popular by the most celebrated dancers of the jazz era for the pleasure and enjoyment of today's audiences.
C.A.D.E. was formed by multi-talented dance virtuoso Chester Whitmore in April 2003 from an enthusiastic collection of individuals with a variety of different dance backgrounds.  The company consists of the following team members:  Gwen Allen, Nzinga Camara, Salvador Corona, Atir Davis, Lauren Duda, Adunni McPhearson, Percival Neal, Ron Parker, Gwen Robinson, Reginald Thornton, Beatriz Vasquez, Chester Whitmore and Chester Whitmore, Jr.
The troupe has performed at numerous venues in the Los Angeles area, and was featured at the Hollywood Park Casino with legendary jazz singer Linda Hopkins (Jan 2004) and in the upcoming HBO film "Lackawanna Blues" directed by George C. Wolf and produced by Halle Berry and Oprah Winfrey's Harpo Films (April 2004). The dancers have also performed at Maxwell's at the famous Argyle Hotel in Hollywood (March 2004), at Monsoon's in Santa Monica (Jan 2004), at a political fundraiser for candidate Stella Murray at the African American Museum (Jan 2004), and at National Tap Dance Day in Thousand Oaks (May 2004).
Groups audience:
Central Ave Dance Ensemble
History of Black Dance in America